Business Continuity
Emerge smarter with dependable security and resilience services Many IT and business leaders have come to the realization that their business continuity plans are insufficient as a result of the cloud shift. There has never been a better time to examine and realign your IT resilience program, whether you're wanting to increase the protection of your business operations and essential data or you want to improve the way your company responds to threats, notably cyber-attacks. Taking the precautionary measures today which are necessary will help in future project incidents and will not affect your business.
Icybee gives a complete variety of services, answers and technology for information safety and restoration, which also include backup as a service(BUaaS), catastrophe restoration as a service(DRaaS) cyber resilience services and IT resilience orchestration (ITRO).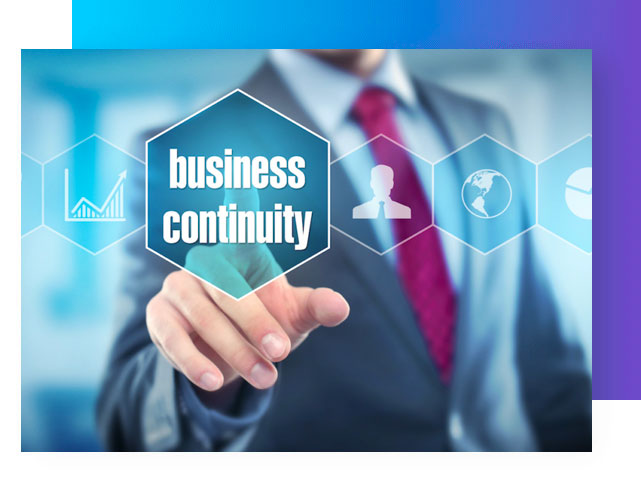 What Are The Key Components Of Business Continuity Management?
Business Impact Analysis (BIA)
Based upon a systematize approach and as well as clear defined impact basis, you identify, prioritize and quantify the effect on time vital enterprise process, customers, premises, technologies, belongings and suppliers.
Risk Assessment
What matters most is that in this situation, risk assessment methodologies are used to accomplish a key objective: to prepare for the worst-case scenario and to safeguard your most sensitive assets.
Strategy And Recovery
Management should be able to guarantee that failures, mishaps, and other occurrences are under control. Additionally, they must be able to guarantee quick recovery of the crucial processes.
Testing And Exercising
Operation ought to decide the feasibility of and take a look at the performance and effectiveness of emergency plans on a everyday basis.
Monitoring And Improvement
Performance review processes provide transparency for all stakeholders. The combination of risk and review is crucial in the context of continuous improvement because it allows us to draw lessons from the past and better the present.